Plesk als primaire DNS-server
Als een domein in Plesk is aangemaakt, dan wordt er automatisch een DNS-zone gecreëerd met alle noodzakelijke DNS-records. U kunt echter ook DNS-records toevoegen, aanpassen of verwijderen als de hostingprovider u daartoe de juiste rechten heeft toegekend.
DNS-records beheren
Om te zien welke records er momenteel aanwezig zijn in de DNS-zone van een domein, gaat u naar Websites & domeinen > DNS-instellingen. U kunt vanaf dit scherm ook records toevoegen, aanpassen en verwijderen.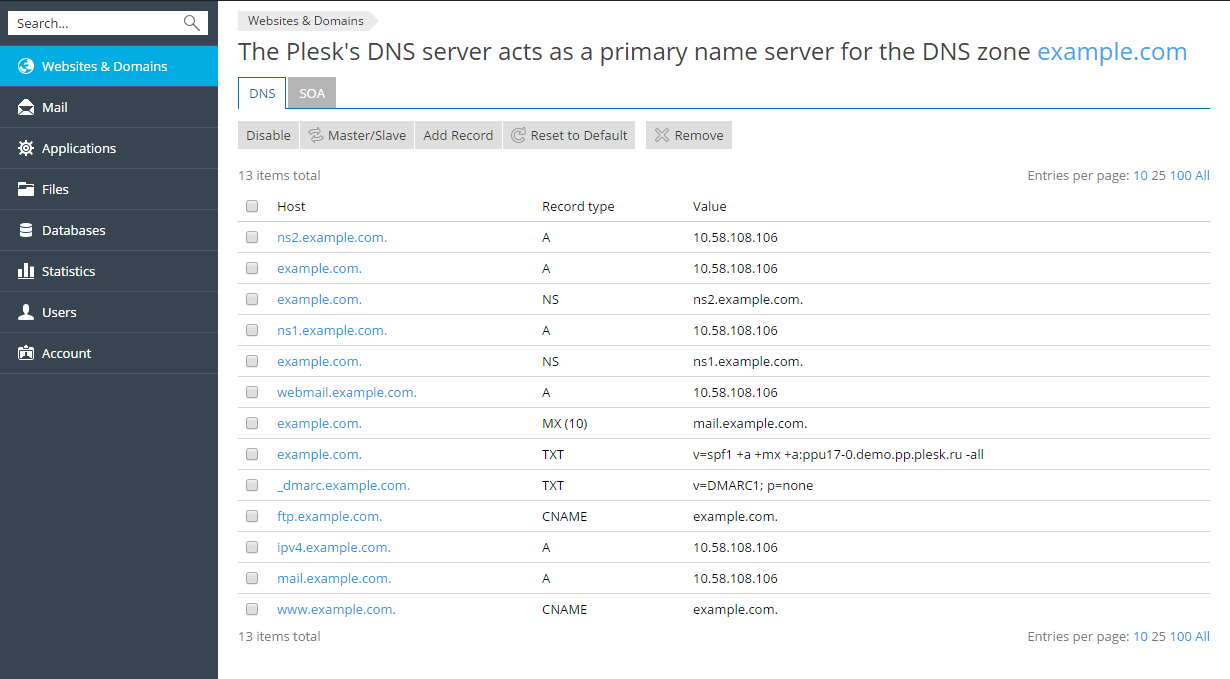 Om een record toe te voegen, klikt u op Record toevoegen. Om een record te wijzigen klikt u op de naam. Om een record te verwijderen selecteert u het selectievakje naast de naam van het record en u klikt Verwijderen. Merk op dat het verwijderen van bepaalde records van invloed is op het functioneren van uw domein. Het verwijderen van het A-record zal er bijvoorbeeld voor zorgen dat uw domein niet meer gevonden kan worden op internet. Als u wijzigingen in de DNS-zone hebt aangebracht waardoor uw website niet meer goed functioneert, dan kunt u de standaard DNS-records toevoegen door te klikken op Terugkeren naar standaardwaarden. Hiermee zullen alle wijzigen die in de DNS-zone zijn aangebracht ongedaan worden gemaakt en de zone zal opnieuw worden aangemaakt op basis van het standaard DNS-sjabloon van de server. Merk op dat eventuele aangepaste records die u aan de zone hebt toegevoegd hiermee verloren zullen gaan.
Een onderdeel van de DNS-zone is het SOA-record. U kunt de waarden van het SOA-record zien en wijzigen onder Websites & domeinen > DNS-instellingen > SOA. Het selecteren van het selectievakje Het serienummerformaat gebruiken dat wordt aanbevolen door IETF en RIPE wijzigt de manier waarop Plesk SOA-serienummers opslaat, van een Unix-tijdstempel tot de JJJJMMDDNN-notatie die wordt aanbevolen door RIPE. Het gebruik van de notatie YYYYMMDDNN is vereist voor sommige domeinnamen, waaronder de meeste Europese. Als uw registrar uw SOA-serienummer afwijst, dan kan het inschakelen van deze optie helpen.
Opmerking: Als SOA-serienummers worden opgeslagen in de notatie die wordt aanbevolen door IETF en RIPE, dan is het aantal wijzigingen van het SOA-record beperkt tot 98 per dag. Als u het SOA-record van een domein in een dag 98 keer wijzigt, dan kan het SOA-serienummer niet meer worden gewijzigd en een klik op de knop Standaard zal alle records uit de DNS-zone verwijderen en de DNS-dienst voor de DNS-zone kan niet langer worden in- of uitgeschakeld, of worden opgeschakeld van primair naar secundair (master/slave), of andersom.
Wijzigingen van het DNS-sjabloon toepassen (alleen in Plesk voor Linux)
Plesk voor Linux geeft u de mogelijkheid om het standaard DNS-sjabloon van de server te synchroniseren met de records in de DNS-zone van uw domein. De synchronisatie wordt uitgevoerd aan de hand van de volgende regels:
Records die door de gebruiker zijn aangepast blijven altijd intact; deze worden onder geen beding aangepast of verwijderd.
Records die aan het sjabloon zijn toegevoegd worden ook toegevoegd aan de zone.
Records die uit het sjabloon zijn verwijderd worden ook uit de zone verwijderd (maar records die u hebt gewijzigd worden niet verwijderd).
Records die zijn gewijzigd in het sjabloon worden ook in de zone gewijzigd (maar records die u zelf hebt gewijzigd worden niet aangepast).
Als u uw DNS-zone wilt synchroniseren met het DNS-sjabloon, dan gaat u naar Websites & domeinen > DNS-instellingen waar u klikt op DNS-sjabloon toepassen.